posted by
content
on
Wed, 12/08/2021 - 12:43
Danish football icon Michael Laudrup has revealed his proudest moment in football. Michael Laudrup revealed his proudest football moment while he was on the Big Interview with Graham Hunter podcast. According to him, winning the League Cup with Welsh team is his best moment in football.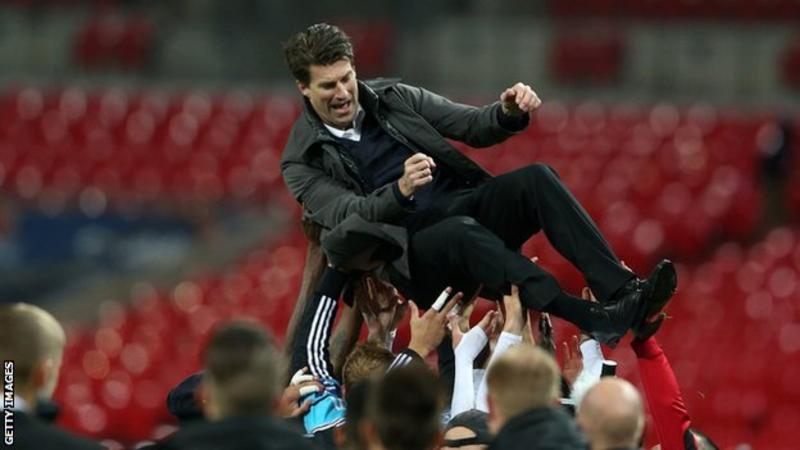 Michael Laudrup surprised many by going for Swansea City who didn't have a taste of Premier League until the competition had existed for almost two decades. He led the Welsh team to the League Cup title in 2013 after they saw off lower league opposition Bradford City convincingly in the final. Laudrup masterminded the 5-0 drubbing of Bradford City on the way to winning the League Cup title.
Laudrup, 57, opted for his time as a Swansea City manager ahead of more illustrious clubs such as Barcelona, Ajax Amsterdam and Real Madrid where he won league titles. He was the Swansea City manager for a period of two years from 2012 and 2014.
Swansea City made Michael Laudrup their manager in the summer of 2012 on a two-year deal and he went on to win the first major trophy in their history with the League Cup title triumph. He was sacked as the Swansea City manager in February 2014 after a major slump in the league that left them two points ahead of the relegation on the Premier League log.
Apart from Ajax Amsterdam, Real Madrid and Barcelona, Laudrup also enjoyed winning the league title at Juventus. He won the Italian Serie A title once during his time with the Old Lady.
Michael Laudrup was part of the Juventus team that won the 1985/86 Italian Serie A title. He also won four Spanish La Liga titles at Barcelona. Laudrup won four successive Spanish league titles at Barcelona from 1990 to 1994 before adding another one at Real Madrid in the 1994/95 season to make it five straight league wins for him. At Ajax, he won the Dutch Eredivisie title at the end of the 1997/98 season.